On 12th January 2021, EASME agency organised a infosession on a new important public Call for proposals. The aim is to fund proposals from Non-Governmental Organisations operating all over Europe, related to the dissemination and promotion of EU Green Deal targets.
During the presentation of the infosession, the most important features of the call, with deadline on 31 march 2021, were described and commented.
The objective of the call is to strenghten knowledge and empower civil society to support an inclusive implementation of the European Green Deal at national and subnational level.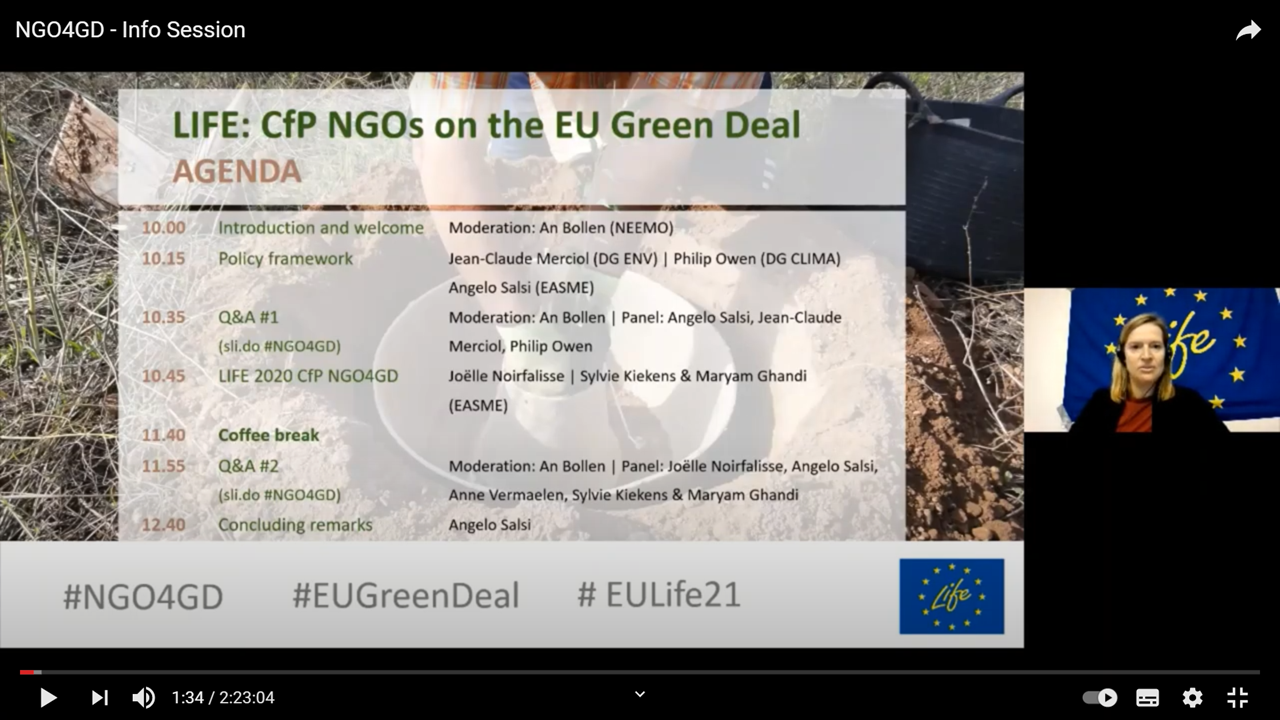 The agenda of the 12th January 2021 (click on the image to watch the video)
The Call is open to project proposals to be presented exclusively by Non-Governmental Organisations. This means that applicants must be not-for-profit making organisations, completely independent from other entities (in particular public organisations), primarily active on the field of environment protection and/or climate change, operate at a national level (for UK, PL, DE, IT, FR, ES it is possible for NGOs operating at regional level to apply to the call).
Proposals can be proposed by one sole organisation (partnerships are not necessary for this call). Projects must be co-founded for at least the 40% of the total cost. 60% of the total eligible cost can be funded at the maximum by LIFE Programme. EU funding cannot be more than 300.000 EUR awarded as lump sum for single project.
Regarding to the evaluation process, it will end with a final list of proposals recommended for funding established with due consideration to geographical balance ensuring that at least the best passing proposal per UE Member State will be included.
The evaluation criteria that will be used for the assessment of the projects will be three:
AW1: Technical coherence and quality of the proposal in relation to the specific need addressed;
AW2: Comprehensiveness and relevance of the approach in relation to the needs identified;
AW3: Financial coherence and quality (including value for money) Applications must be presented using specific forms made publicly available, where contents must be filled in limited text.
For a detailed review of the objectives of the call, please have a look at our last CALLforEUROPE Weekly Magazine.