The European Commission intends to sustain a new network of Digital Innovation Hubs. The final objective is to provide support to European companies in exploiting current digital technologies.
The rationale of the new initiative is based on the low digitalisation rate that we still have in Europe, in particular regarding to SMEs. The level of digitalisation remains uneven, depending on the sector, country and size of company: only 20% of SMEs in the EU are highly digitised. On the other side, the digital revolution brings opportunities that it is fundamental to catch up if Europe wants to stay competitive in most of the global value chains.
Digital Innovation Hubs (DIHs) are imagined as one-stop shops where companies can share ideas and projects aimed at changing their business/production processes, products or services using digital technologies.
The European Commission defines a European Digital Innovation Hub (EDIH) as a single organisation or a coordinated group of organisations with complementary expertise, with a not-for-profit objective, that support companies – especially SMEs and mid-caps – and/or the public sector in their digital transformation.
Services expected to be provided in DIHs range from technological advice to information on funding opportunities, training and skills development projects, innovation networking. Companies have the opportunity with DIHs to experiment and test (before fully implementing) their investments.
DIHs will have a central role in the Digital Europe Programme to stimulate the broad uptake of 5 "Specific Objectives": high performance computing (HPC), artificial intelligence (AI), cybersecurity, related advanced digital skills, as well as digital solutions / interoperability for the public sector.
Examples of the DIH role in implementing the DEP are:
helping SMEs to make use of the advanced computing facilities of the HPC centres;
promoting an AI-on-demand platform, which makes AI algorithms and public data sets available for anyone;
security audits for SMEs;
training, as the EDIHs may be one of the organisations selected to provide short-term training courses or they may just host them for organisations in their area. The hubs should also promote job placement opportunities to their network of SMEs / public administrations.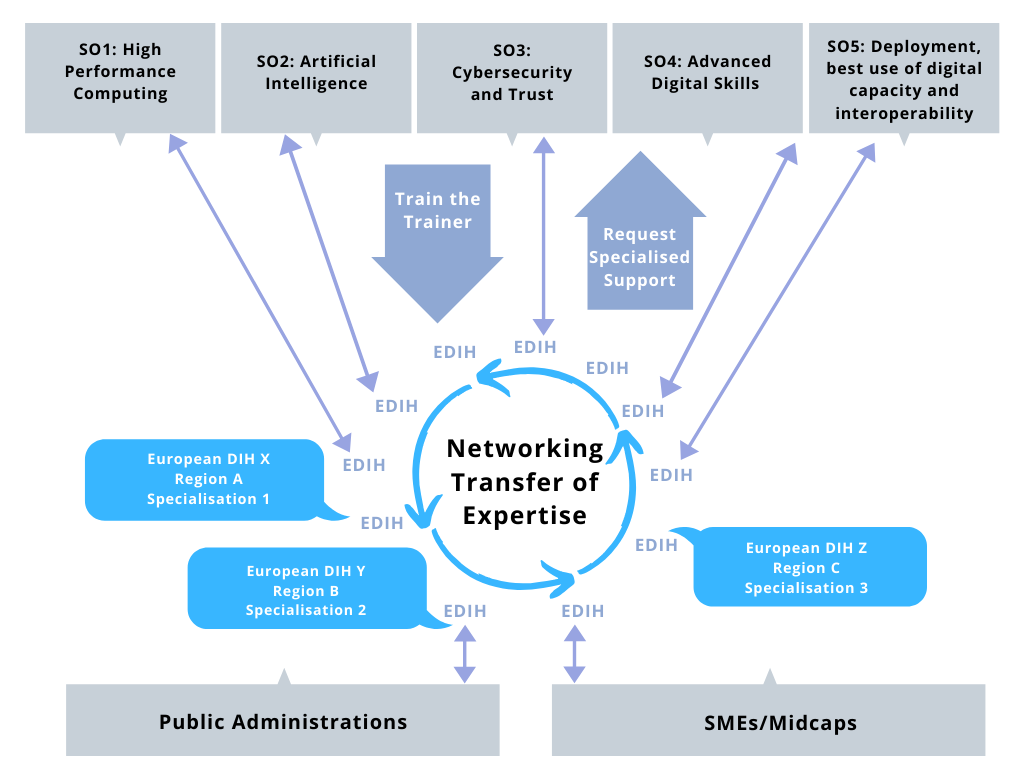 A scheme of a typical DIH ecosystem (in "European Digital Innovation Hubs in Digital Europe Programme" EC Draft working document - 22 10 2020)
EU funding will boost existing networking and expertise capacities of selected hubs and enable digital transformation activities with an added European value. Grant opportunities will focus on improved hub facilities and employment of personnel.
The selection of EDIHs throuughout Europe will follow a two-step process:
Member States will designate potential hubs;
The Commission will launch a restricted call for proposals that these hubs need to apply for.
A first restricted call for EDIHs is expected to be launched at the end of January 2021, to enable selected EDIHs to start their operation after summer in 2021. This implies that the Member States should be ready to designate their hubs to the Commission by 1 December 2020. For more information on this process, look here.
A working document from the European Commission is available to guide the implementation of European Digital Innovation Hubs in the Digital Europe Programme.
The Commission proposes to invest between 0.5 and 1M€ per year in each hub. Together with the contribution of the MS, this would add up to a significant investment between 1 and 2 M€ per year per EDIH. With the current budget proposal for Digital Europe, it is foreseen to support between 100 – 200 hubs in the EU, with at least one hub per Member State. These numbers will be adapted once the final budget is agreed with the European Council and Parliament.
---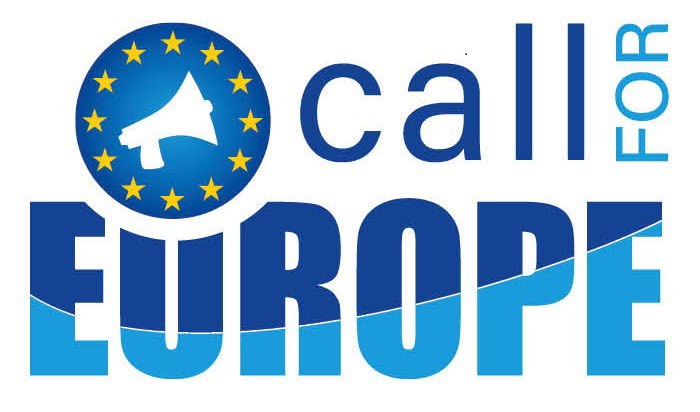 Find more information in our CALLforEUROPE Weekly Magazine, with synopses and comments on all European funding opportunities. More than 70 Calls for funding reviewed by us every week for you.