A new initiative has been launched by the European Commission for promoting new ways of living and building in our Union.
The Bauhaus Project in Europe intends to be:
- a platform for experimentation and connection;
- a bridge between the world of science and technology and the world of art and culture;
- an invitation to change perspective and to look at our green and digital challenges as opportunities.
Bauhaus project will strive to:
- bring citizens, experts, businesses, and Institutions together and facilitate conversations about making tomorrow's living spaces more affordable and accessible.
- mobilise designers, architects, engineers, scientists, students, and creative minds across disciplines to reimagine sustainable living in Europe and beyond.
The intention is also to provide financial support to innovative ideas and products through next ad-hoc calls for proposals and through coordinated programs included in a Multi-Annual Financial Framework for 2021-2026 years.
The implementing phases
As described in official documents, this initiative will unfold in three periods:
1) Design: the outcome of this working phase will include a call for proposals for at least five places where the new Bauhaus concept will be implemented by pilot projects. Moreover, in spring 2021, a European Bauhaus prize will also reward inspiring examples around the key elements of the project.
2) Delivery: A 'community of practice' will be formed by all the participants of the design phase, in order to learn and benefit from the first experiments.
3) Dissemination: initiatives will be implemented for networking and sharing knowledge between practitioners on the best available methods, solutions and prototypes.
The Conference
On 22-23 April 2021, a conference was organised in Brussels which gathered on line more than 8.000 participants.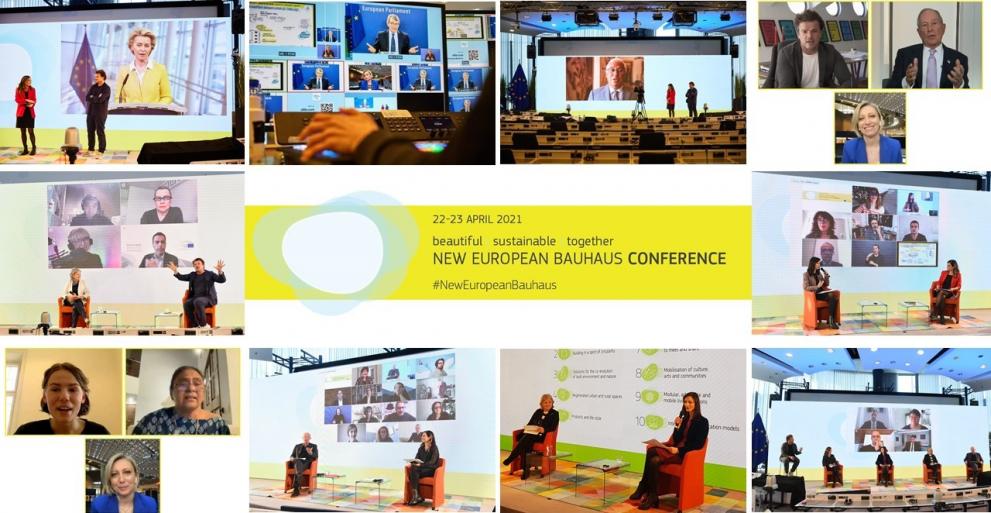 You can find the visual harvesting of the speeches, panels and debates of the Conference dowloading here.


The European Bauhaus Prizes
The first phase of the initiative is focused on design and engagement, and it aims to clarify the scope and will inform the priorities of the New European Bauhaus actions. The New European Bauhaus wants to reach out to artists, activists, designers, architects, students, scientists, engineers, practitioners, policymakers and all interested citizens. They are invited to contribute to the shaping of the initiative in developing and harvesting conversations/discussions by concretely coming up with inspiring examples, ideas and visons or challenges and needs.
The European Commission organises specific Prizes to recognize and celebrate existing achievements and support the younger generation to further develop emerging concepts and ideas. They are expected to give visibility to examples and concepts that illustrate how beautiful, sustainable, inclusive places already exist in our territories, our communities and in our practices, paving the way to the future.
In the 23rd May 2021 Edition of the Weekly Magazine of CallforEurope we give an extensive description of the eligibility conditions and other information on the objectives of these prizes. Look at the article by buying the last issue!